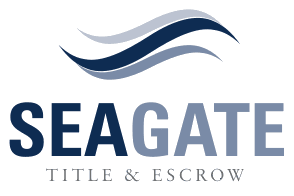 SERVING ALL OF SOUTHWEST FLORIDA AND BEYOND
Seagate Title & Escrow company was founded with one goal in mind: to create a company centered around trust, responsiveness, integrity and honesty.
We put your security first… above all!
Despite a thorough search of public records, you may fall victim to potential defects hidden on documents to the purchase of a property. Certain documents, such as a land title or deed of mortgage, are rendered useless for many reasons deemed illegal by authorities. This is where we bring our expertise.
No one would like to risk buying a property only to end up empty-handed or caught up in lengthy litigation, because the court declared a certain document(s) defective. This is why it is important to protect yourself.
Seagate Realty® has been a leader in luxury real estate for over 35 years. Our dedication to exceptional investor and client service sets us apart. Our portfolio of homes, developments and investment opportunities encompasses Southwest Florida and beyond.
If you're looking to buy, sell or invest, Seagate Realty has the experience, expertise and a track record of success.
Contact Us
Say hello with the form below, or give us a call.
Phone: 239.738.7900
Agency License #: W838235
Corporate Headquarters:
9921 Interstate Commerce Drive, Fort Myers, Florida 33913
Warehouse:
6180 Federal Court, Fort Myers, Florida 33905
Theory Design Studio:
10800 Corkscrew Road, #398, Estero, Florida 33928
Theory Design Telephone:
239.322.5000
Boca Grande Showroom:
411 Park Avenue, Boca Grande, Florida 33921 (By appointment only)
Earth Tech Equipment & Maintenance Facility:
6180 Federal Court, Fort Myers, Florida 33905
CGC1526166 ©2023 Seagate Development Group. All rights reserved.